A list of better placeholders for your web & print projects
Originally appeared at https://alt-web.com/TUTORIALS/?id=no-more-boring-placeholders
Behold! The ubiquitous gray placeholder image.  It's not very exciting to be sure but it serves the intended purpose of reserving layout space for future image insertion.
From PlaceHolder.com
What if you're craving more from your work in progress but you don't want to waste precious project time creating custom placeholders in a variety of sizes? Well look no further my friends.  Below are some very nice and a few zany alternatives you can use.  Simply copy & paste the sample code with your width & height values.  Best of all, these placeholder images are hosted on secure HTTPS servers so when previewing your work to clients  you need not worry about mixing secure and non-secure content.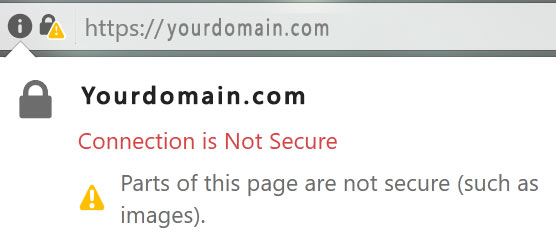 Browser warning about mixed content
For purposes of this demo I used the same width & height (300/200) throughout. You will get different image results based on your width & height values. Some sites offer other interesting options too such as colors, filters and much, much more...   So let's get started with better placeholders.
Before anyone gets upset with me for NOT mentioning Placekitten.com or Lorempixel.com among others, I intentionally left them off this list because their images are not securely hosted on HTTPS servers. When and if that changes I'll happily revise this article to include them.
So there you have it folks.  A rich assortment of secure placeholders for all your web & print projects.  Enjoy!
---
By Nancy O'Shea, ACP / Web Developer
Web Site: https://alt-web.com